Exploring our most accessible shamanic practices so you can access the power of your nature.
Introducing you to Shamanic Tools for Life, a 7 part series where we will be guiding you to meet your healing plant allies, learn the cultural context of each medicine and learn how to practice each ritual at home for yourself or your family.

These tools have been used in the indigenous communities of Mexico, Brazil, Colombia, Guatemala and Peru for centuries, shared within their families, supporting their connection with nature and great spirit.

Throughout this process, we will share with you the cultural context of each medicine, the process of how they are made, what the benefits are, and how to use them with intention.
In practicing with these shamanic tools you will be opening the door to your inner teacher, your own personal healer and guide. That person is you.
We hope that these tools can not only help you to find balance and strength in your life, but also connection with something greater than yourself.
Letting love and healing in, activating love and healing without.
Course Overview
You will be guided through 7 tools over the 7 weeks of the course, wherein you will learn how to bring these 7 powerful tools into your life. This method includes 7 guided group circles, tutorial videos, practice "homework" and the ever abundant gift of shamanic practices for your life.
Each fortnight, you'll have the opportunity to attend a live call (or access the recording) where you'll be set up for success for the week to come. You'll have prompts, guidance, ritual "homework" and more to guide your journey over the 7 weeks.
Live circle sessions exploring the whole process as a collective, learning from each others' experiences and being supported by Ahau & Robyn's wisdom and experience.
A chance to connect with other beautiful humans on the medicine journey, whilst being held accountable to invite change and transformation into your life.
Week 1 | Introduction

We will meet together, open the circle, learn about the significance and protocols of the 7 directions and use that to guide us to set our intentions as a collective.

Week 2 | Rapé

You will complete a 7 day dieta with Rapé. In our session we will delve into the knowledge, history and practices of the Rapé medicine. Understanding how to serve yourself and the benefits of different blends and techniques.

Week 3 | Cacao

This week will be a Cacao dieta, working with this heart opening medicine, guided by the knowledge and protocols that we share in our workshop session, you will begin to build a deeper relationship with this medicine.

Week 4 | Sananga

We will complete a 7 day Sananga dieta with this potent eye medicine. In our session we will be sharing education around origins, uses, culture and benefits to support you in your journey with this plant.

Week 5 | Tobacco

Tobacco is known as the plant of the humans. Forget what you know about the Tobacco modern society has created, this is a powerful medicine of connection for the human. We will guide you through praying with tobacco and how to use it to enhance your connection.

Week 6 | Palo Santo & Copal

Smudging, smudging, smudging, it's everywhere and yet do you really know what you're doing? This session will dive into the ancient knowledge and rituals behind smudging and how we can honour that in our practices.

Week 7 | Shamanic Instruments

The drum, the shaker, the sticks, harmonica, your voice! Whatever it is, we will tap into how you can use your instruments to connect with source, expand yourself and open up channels of healing for you and your community. Unleash the medicine music.
Frequently Asked Questions
Pricing Options

Click here for Full Payment - £224 single payment.

Click here for 7 Weekly Payments - £32 per week.
Where does the course take place?

This course will be online.
It's too expensive for me right now, can you help?

Absolutely, we offer payment plans and no income discounts.
When are the live online circles?

Times and time zones are tbc and will be announced when the course goes live.
What is the time investment?

You will be required to invest around 15-30 minutes each day for your own practice and 1.5hrs per week for each circle session.
Where can I find out more?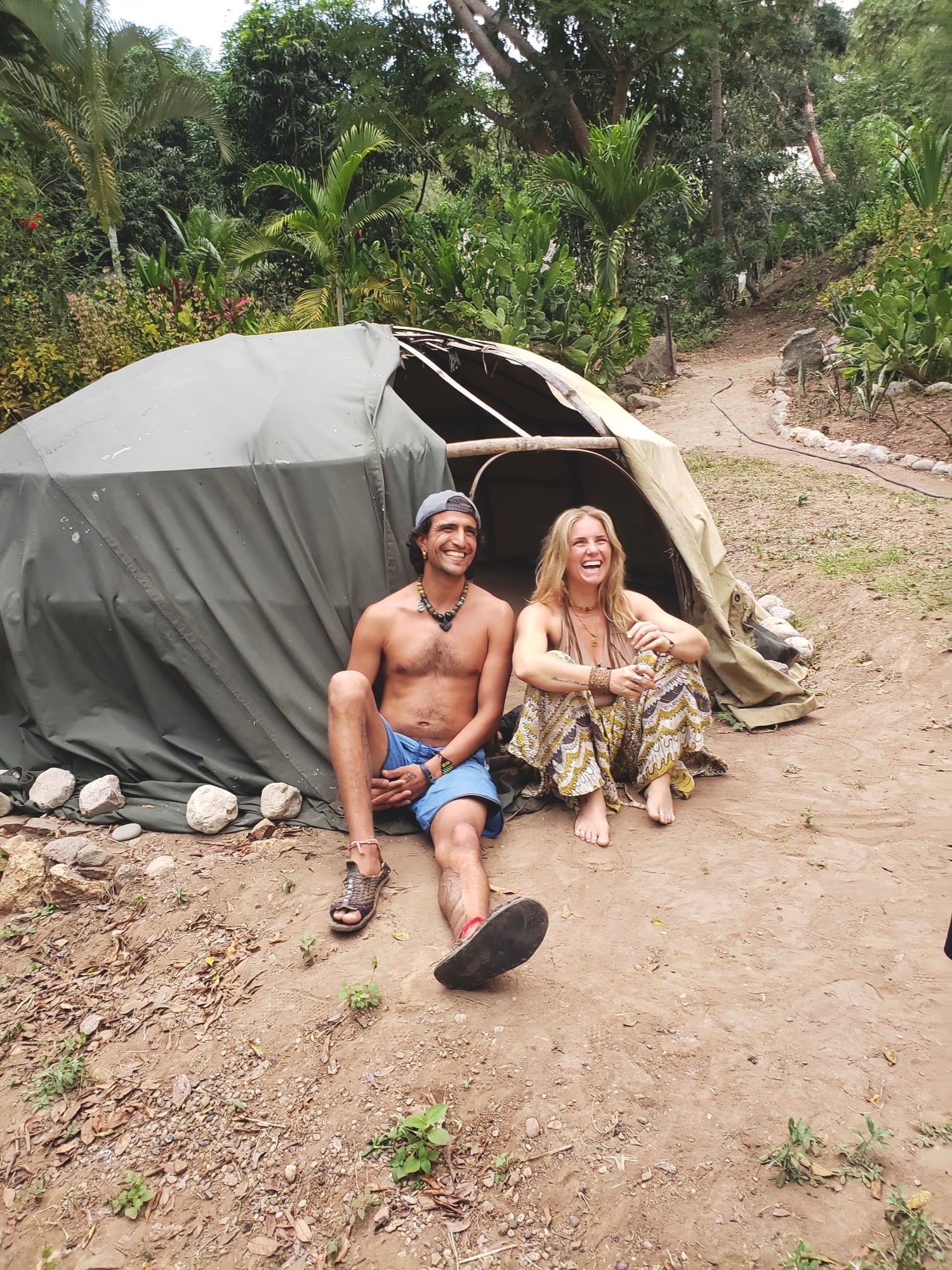 Meet your Guides
Ahau & Robyn work together holding space with joy, strength & compassion.
Ahau is a Mexican medicine man working with Traditional Medicines of his culture for the past 11 years, holding ceremonies & workshops. Living fully in his life purpose of being of service to humanity. 
Robyn is a creator, sacred space facilitator, intuitive emotional psychologist and psychedelic integration guide. A natural medicine woman who has travelled the world studying the roots of our cultures and how they positively guide and support our human experience.