Are you ready to connect with the original guides of all indigenous communities? Together with the sacred elements we will immerse in the power of nature, working with tools to access clarity, nourishment, resilience and freedom.
Hosted by Ahau Samuel, Emma Marshall & Robyn Leonie, this collaboration retreat is the dream of 3 devoted students to the path of the elements. Our journeys within somatics, neuroscience, natural medicine, ancient ceremony, movement medicine and sound have brought us back again and again to the same source of vitality and healing - the elements.
A weekend filled with all of our most powerful tools and beautiful practices which we use to journey back to source. Are you ready to walk the path of the elements with us?

Along with our own lived experiences, ancient and modern research into these practices have found benefits for:

Depression
Anxiety
Chronic Pain and Tension
Need to Control
Fear of Death
Insomnia
Addiction
Auto Immune Conditions
Post Traumatic Stress Disorder
-
Enhanced Empathy
Deeper Connection with all Living Things
Process Trauma
Higher Energy Levels
Deep Gratitude
Feeling of Belonging
We feel genuinely excited to share this weekend with you, filled with all of our favourite most life bringing magic!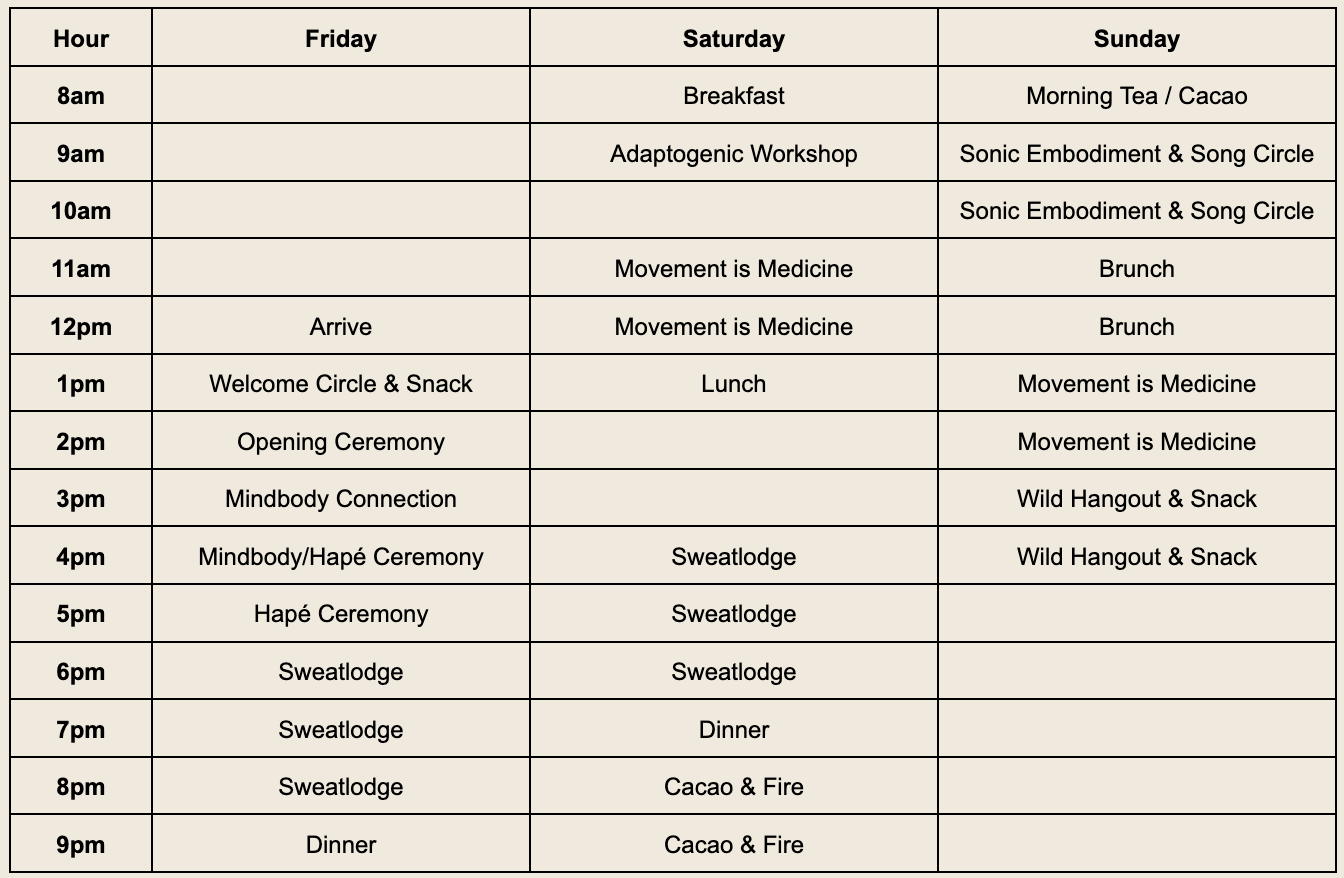 Sample Timetable
Ceremonies; Sweatlodge, Hapé, Cacao, Fire & Ice Bath
Workshops; Movement is Medicine, Adaptogens, Mind-Body, Sonic Embodiment
Retreat Overview
Dates:
30th June - 2nd July
Location:
The Croft Farm
Facilitators:
Ahau Samuel, Emma Marshall & Robyn Leonie
Exchange:
A deposit of £250 is required to secure your space.
*payment plans available. Please contact for childrens attendance info upon request.
All accommodation is shared, includes beds and bedding, and all bathroom facilities communal.
Earlybird Prices (SOLD OUT)
Double Bed within Shared Glamping (suitable for couples or friends sharing a double bed within a shared space) - £450pp
Single Bed within Shared Room - £500pp
Camping Ticket - £333
Full Pricing (5 places available)
Double Bed within Shared Glamping (suitable for couples or friends sharing a double bed within a shared space) - £650pp
Single Bed within Shared Room - £550pp
Camping Ticket - £400
Includes:
Healthy Seasonal Meals & Juices
Accomodation on sacred lands by a beautiful wild woodlands
Ceremonial Cacao (with optional microdose)
2 Movement is Medicine Workshops
2 Sweatlodge Ceremonies
1 Hapé Ceremony
3 Workshops; Adaptogens, Mind Body Connection & Sonic Embodiment
Fire & Cacao Ceremony
Example product title
Regular price
Sale price
$19.99
Unit price
per
Sale
Sold out
View full details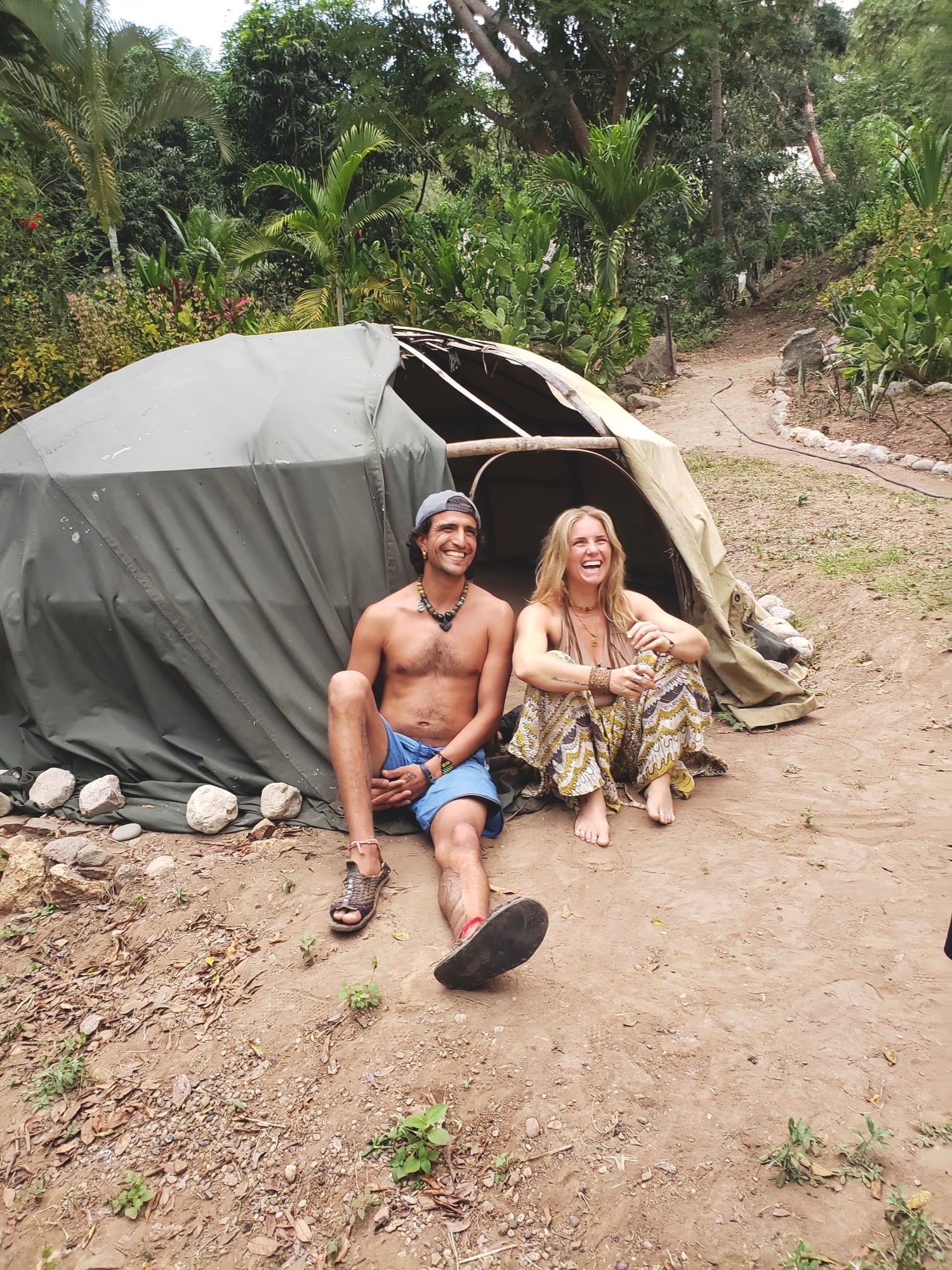 Ahau & Robyn
Co-founders of Root of the Gods, a project that preserves and re-activates sacred wisdom. Together they hold space with joy, strength & compassion.
Ahau is a Mexican Medicine Man working with Traditional Medicines of his culture for the past 11 years, holding ceremonies & workshops. Living fully in his life purpose of being of service to humanity. Ahau is a great teacher with a humble heart, his lessons and words valued by many communities across Mexico.
Robyn is a British Creator, Sacred Space Facilitator, Medicine Woman & Natural Living Advocate - leading through a powerful, grounded approach to connected living. Robyn has traveled the world as a student of anthropology and ethnobotany - studying the roots of our cultures and learning how they positively guide and support our human experience. 
Emma Marshall
Emma Marshall is the founder and creator of the neuroscience-backed Movement is Medicine® Method; a method that uses various forms of movement, music and somatic meditation to connect the mind and the body that allows people to connect, feel and release. She teaches people all over the world that movement and music is medicine and the road to freedom exists by connecting to the body, sensation and feelings. 
Emma is Founder of educational Instagram platform @emmathealchemist where she creates educational content combining science with creative consciousness. A teacher of MindBody connection specialising in emotions, trauma, stress and embodiment.
Emma previously worked in both music and education industries with world leaders such as Sony and impact leaders such as SEN Education - School of Special Educational Needs.
Details of each ceremony & workshop...
Movement is Medicine

Movement is Medicine is a combination of somatic therapy, dance and music to create safety and connection between mind and body, which then moves into release. Movement is Medicine uses various forms of movement throughout the workshop to create an understanding of how to tune into the physiological sensations, the messengers of the body, so that we can free ourselves from stress, tension, trauma and emotion.
Temazcal Sweatlodge

A type of Sweatlodge, a Temazcal is a purification ceremony; for relieving stress, cleansing toxins from the body, releasing negativity and revitalising life force. Especially beneficial for your immune system & balancing mind, body & spirit. Essentially, it is a steam bath in a natural dome. Large rocks are heated on a fire outside, then placed inside a natural bowl in the center of the dome & doused with water and herbs. The medicinal steam & the power of the natural elements help us to open and cleanse. As a key part of indigenous medicine, it has been used widely for thousands of years for the treatment & prevention of disease, stress, weight loss, depression, skin conditions, fibromyalgia & much more.. The Sweatlodge dome itself represents the 'Womb of the Earth' as its energy is distinctly nurturing, bringing us closer to our Panchamama.
Mind Body Connection

A workshop that is based on science and also ancient wisdom to help you understand the importance of the mind-body connection that will set you up for the weekend in all of the activities we are doing, by creating a new understanding of how to work with your body, even when the mind says no. We will guide you through key info as well as a meditation to connect you deeply to your body.
Hapé Ceremony

A ceremony to connect with the Hapé medicine with drumming and music. This is a space to open and connect with your presence and drop from the mind into the body. Held a space of compassion, safety and a collective grounding. Hapé is used to clear your mind, helping to silence the busy mind and bring peace and clarity. It can be used to help you focus on activities - traditionally used before hunting. Now this medicine is used for a variety of physical imbalances such as sinusitis, allergies, asthma, fever, parasites as it cleans the body especially the nasal passages and stomach.
Adaptogenic Workshop

Working with adaptogens as your go to plant ally is a very simple way to build resilience internally so that whatever you're faced with externally can be worked through. You'll be taught about some of the key adaptogens from mushrooms through to herbs that can help the body adapt to stress better. Samples will be available too.
Cacao & Fire Ceremony

Cacao is an ancestral medicine used by Mayan communities known as the 'heart opening' medicine. We will flow with this medicine, allowing it to activate our serotonin, moving from meditative state into celebrative movement; reflecting, receiving and opening our hearts to the true fire activation power of our grandfather fire.
Sonic Embodiment & Song Circle

An active workshop focussed on strengthening your relationship with speech, sound and expression. Through meditation, active reflection, heart to mouth communication, drumming and voice activation you will bring forth your unique sonic truth.