Guiding you to meet the origins of the ancient plant medicine system of psilocybin mushrooms. Together we will be immersed in the indigenous traditions and healing power of Los Niños Santos​ (the holy children)
This rare and precious retreat we will experience a full mushroom healing dieta with the prestegious medicine woman and Mazatec healer Doña Eugenia Casimiro and her team. Eugenia is one of the few healers in the world who is carrying this healing tradition of working with mushrooms or 'Los Niños Santos' through direct line, being a student and friend of the famed Maria Sabina.
Mazatecas have been using this medicine for thousands of years for its medicinal, curative benefits whilst also seeing it as a path to access and communicate with the divine wisdom within other realms of the universe. We will spend this week with them on that journey, in their trusted hands we will be guided to explore our own connection with consciousness and strengthen that relationship for our own path of healing.

Modern research being done is drawing the same conclusions and proving what Eugenias family have known all along, recent scientific research finds that pscylocibin therapy may provide long lasting benefits for;

Depression
Anxiety
Post Traumatic Stress Disorder
Obsessive Compulsive Disorder
Lessened Fear of Death
-
Increased Creativity
Enhanced Empathy
Deeper Connection with all Living Things
Process Trauma
Fresh Perspective
Heightened Feelings of Gratitude
Contentment
Feeling that "Everything will be just fine"
We are absolutely BLESSED to be working with such knowledgeable healers in such a time of change.
A pivotal moment where the modern world is also waking up to the powerful benefits of this natural plant medicine and how impactful it can be on peoples lives.
An interview with Doña Eugenia Casimiro, Mazatec Healer
Who is Doña Eugenia?
Doña Eugenia Pineda Casimiro is a Mazateca healer from Huautla de Jiménez, Mexico, a little town in Oaxaca which was brought to fame by María Sabina and her work with Los Niños Santos, or "the holy children." Trained in her ancestral lineage by her mother, Abuela Julieta Pineda Casimiro of the International Council of 13 Indigenous Grandmothers, Eugenia worked by her side since childhood, and accompanied her through all of her world travels. Eugenia inherited this altar to carry on the family legacy upon her mother's passing in 2018.
Retreat Overview
Dates: 
25th Nov - 2nd Dec (SOLD OUT)
26th Jan - 2nd Feb 2024 (SPACES)
Location: 
You will be collected from Mexico City
Centre:
Huautla De Jimenez, Oaxaca, Mexico
Facilitators:
Ahau Samuel & Robyn Leonie
Ceremonial Guide:
Doña Eugenia Casimiro
Exchange:
A deposit of £400 is required to secure your space, the rest is paid in instalments.
*payment plans and low income discounts available. Please contact for childrens attendance info upon request.
Earlybird Price (bookings before 1st Oct)
£1,600pp
Full Price
£1,800pp
-
In this retreat:
We will be visiting the beautiful traditional town of Huautla de Jiménez at 1,500m above sea level to sit with Indigenous Wisdom Keeper Doña Eugenia Casimiro where we will experience ceremony and knowledge sharings with her and her community.
Our dream for this retreat is to not just be a healing medicine retreat but to be a cultural immersion into the mushroom ceremony altar which is so rare in the modern use of magic mushrooms we see today. This is a deep and playful adventure journey back to the source!
Includes:
3 Mushroom Ceremonies
1 Pilgrimage with Doña Eugenia
2 Temazcal Sweatlodge Pre-Preparation and Post-Integration Ceremonies
Morning Meditation & Yoga
Art Therapy Integration working with the local crafts of the town such as embriodery, painting, candle making
Integration Tools Workshop
A visit to the house of Maria Sabina
Fresh Local Mexican Food
Homely mountain view accommodation (2/3 per room)
Frequently Asked Questions
Pricing

£1,600-1,800 per person all inclusive

A deposit of £400 is required upon booking and the rest can be paid in installments before the retreat.
It's too expensive for me right now, can you help?
How do I get there? Do I need to get my own flights?

Yes, we recommend flying from the UK to either Mexico City or Cancun. We will collect you from Mexico City and we will travel together in a minibus to the mountains of Oaxaca which is roughly 7 hours (we will take a stop off half way).

For flights, generally sometimes it's cheaper to get a flight to Madrid and then from there a direct to Mexico. Check Kayak and Sky Scanner for options.
Where can I find out more?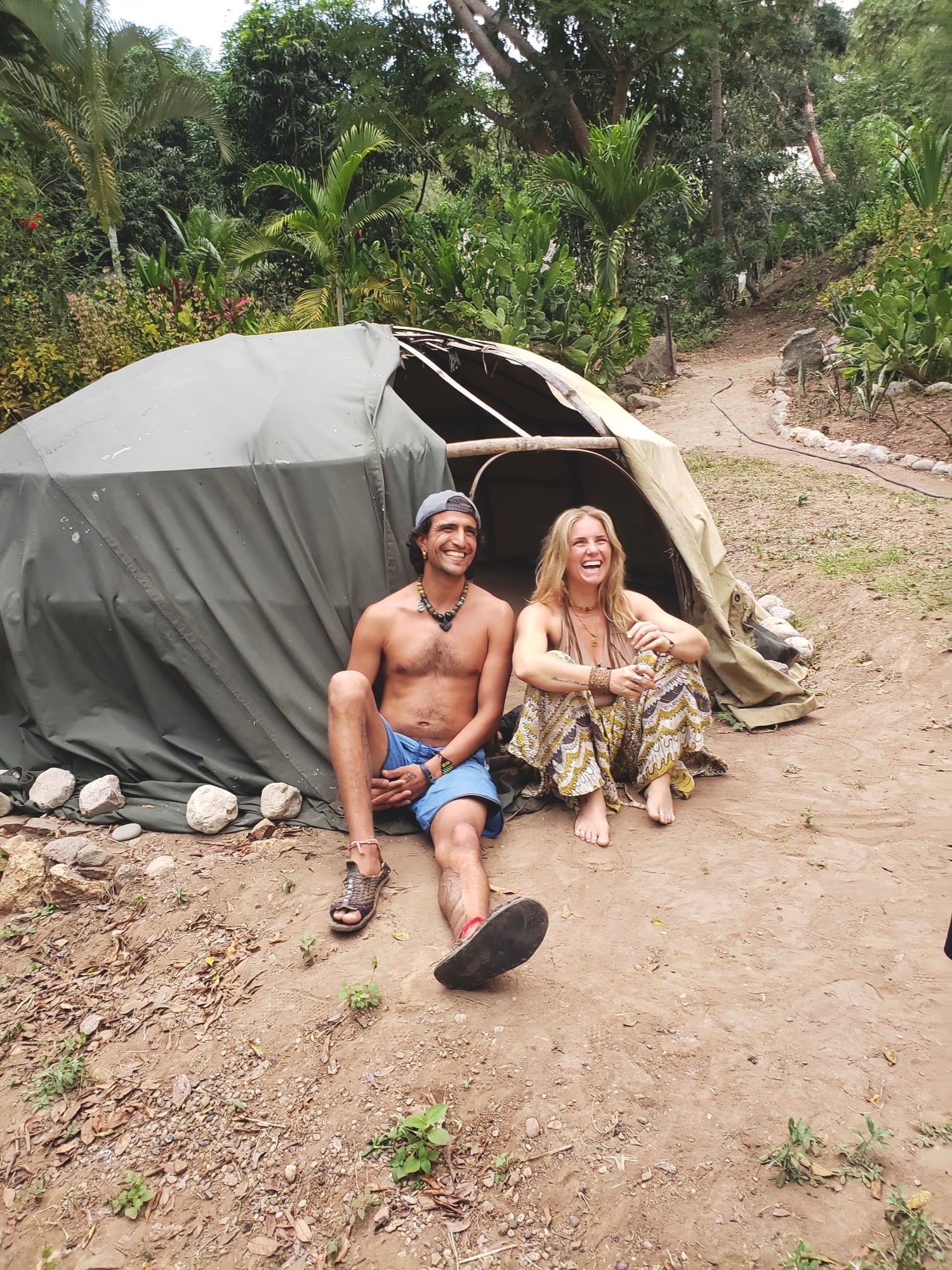 Meet your Guides
Ahau & Robyn work together holding space with joy, strength & compassion.
Ahau is a Mexican medicine man working with Traditional Medicines of his culture for the past 11 years, holding ceremonies & workshops. Living fully in his life purpose of being of service to humanity. 
Robyn is a British creator, sacred space facilitator, intuitive therapist, and psychedelic integration guide. A natural medicine woman who has travelled the world studying the roots of our cultures and how they positively guide and support our human experience.